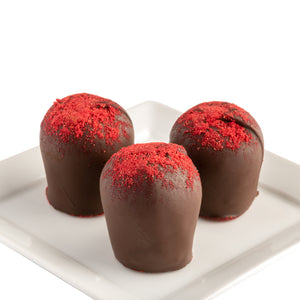 This dark chocolate truffle combines the flavors of vibrant sun kissed raspberry with rich dark chocolate.  Raspberry infused dark chocolate ganache is hand dipped in dark chocolate then topped with powdered freeze-dried raspberries.  A Euphoria Chocolate best seller because no one can resist this delightful hand-crafted truffle.  
Classic Truffles are perishable and shipped UPS only to ensure timely delivery and not eligible for free shipping.  
During warmer months (May-September) we reccomend using UPS Two Day Air or Next Day Air.  We are unable to guarantee the condition of orders sent during hotter months.