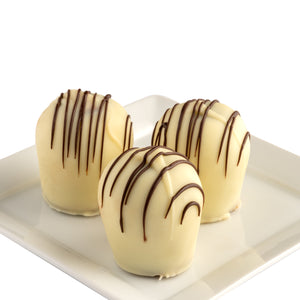 Premium Euphoria dark chocolate, locally sourced fresh cream and Kahlua combine to create a remarkable ganache that is hand dipped in white chocolate then given dark chocolate stripes.  A truly spirited truffle that is a hit with fans of chocolate and Kahlua.     
 Classic Truffles are perishable and shipped UPS only to ensure timely delivery and not eligible for free shipping.
During warmer months (May-September) we reccomend using UPS Two Day Air or Next Day Air.  We are unable to guarantee the condition of orders sent during hotter months.