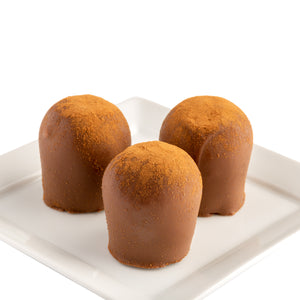 Warming cinnamon and real vanilla create a truly unique and satisfying truffle.  The dark chocolate ganache is infused with cinnamon and vanilla then hand dipped in creamy milk chocolate topped with cocoa and cinnamon.  Some have described it as a sophisticated snickerdoodle and others as an ode to Ek Chuah, the Mayan god of chocolate.
Classic Truffles are perishable and shipped UPS only to ensure timely delivery and not eligible for free shipping.
During warmer months (May-September) we reccomend using UPS Two Day Air or Next Day Air.  We are unable to guarantee the condition of orders sent during hotter months.